Back to Shows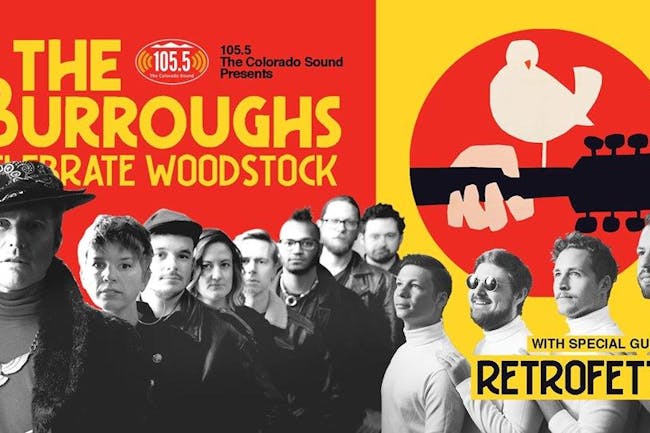 The Colorado Sound Presents
105.5 The Colorado Sound and Color Red Present: The Burroughs Celebrate Woo
$14.00 - $28.00 Sales Ended

Soul / Electronic

The Colorado Sound Presents: The Burroughs celebrate Woodstock at Ophelia's Electric Soapbox

THE BURROUGHS: Sweaty Soul goes rock and roll as The Burroughs celebrate the 50th anniversary of Woodstock 1969. Hear the group's fresh and funky takes on the music of Jimi Hendrix, Joe Cocker, Janis Joplin, Sly and the Family Stone, The Band, and more....all mixed and matched with original music from The Burroughs that's guaranteed to move the audience to a frenzy of peace, love, and music by the show's closing note.

Steeped in classic soul standards and outfitted with modern flair, The Burroughs are a nine piece band with a powerhouse sound known for high energy live performances that pack dance floors and lift spirits. The Colorado-based band has performed as direct support for acts including The Main Squeeze, Steve Miller Band, The Dirty Dozen Brass Band, Orgone, and The Motet. The Burroughs have appeared on numerous festival lineups including Bohemian Nights New West Fest, The Underground Music Showcase, Salmonfest Alaska, The Greeley Blues Jam, and Denver Day of Rock.

RETROFETTE: With something for everyone, Retrofette makes music that will make you want to bust out the tracksuit, dust off the Delorean, and dance." –Bandwagon Magazine August 2016 Denver-based Retrofette is the byproduct of keyboardists Sean Culliton and Xavier Provencher's love for vintage synthesizers and sweaty dance floors. Joined by synth bassist Ben Weirich and drummer Dylan Johnson on stage, the quartet's brand of 80s tinged synthpop was born in March 2016 and has since garnered a steadfast following.Since its inception, Retrofette released its debut three song I Don't Mind EP and shared the stage with acts such as Magic Sword, Fever the Ghost, Mark Mallman, and The Other Black. They have played in front of sold out audiences at Denver's Hi Dive, listed as one of 303 Magazine's top bands at the Underground Music Showcase, and selected as the Best Pop of 2017 act in Colorado by Westword Magazine.