Back to Shows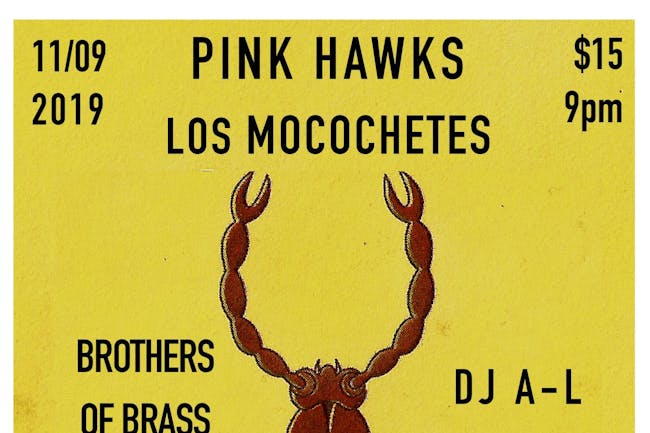 Pink Hawks
Los Mocochetes, Brothers Of Brass, DJ A-L
$15.00 - $30.00 Sales Ended

Put on your dancing pants, and join Pink Hawks as they set the floor on fire.

Pink Hawks is an Afrobeat / Chicano Hip-Hop orchestra, playing original and future-traditional music to dance to. Local music scholar Tom Murphy states, "As much artistic revolutionaries as musicians, Pink Hawks bring the struggle for a more interesting world home to roost." In his coverage of the Underground Music Showcase, Westword Magazine writer A.H. Goldstein paints a narrative: "I jostled through the crowd to find a spot at the front of the room. The effort was worth it - Pink Hawks' set was easily one of the most dynamic and infectious of the night." Your body, mind and soul will thank you later.

Pink Hawks don't just want you to watch them perform, they want you to join them. Comprised of ample world musicianship garnering comparison to sonic innovators such as Fela Kuti's Afro-beat, Mulatu Astatke's Ethiopiques Jazz, "Sun Ra's melodically off-the-rails piano playing, and the languid, sonically adventurous atmospheres of Yo La Tengo" (Tom Murphy, Westword), Pink Hawks have evolved from an entirely free-form performance art group, to the more focused psychedelic Afro-Beat ensemble they are today.

Currently led by the experienced improvisationalist Yuzo Nieto, Pink Hawks is a group that will exceed your expectations of live dance music. Trained in operatic singing, jazz saxophone and theater, Nieto's musical inclinations led him beyond the punk roots of his youth to explore other forms of artistic expression both traditional and visceral. As Jon Solomon of the Westword writes, "Nieto not only likes to fill your ears with some intriguing ear candy, he'll give you something to watch." Add a twelve-piece world orchestra of professional musicians, and you've got one of the hottest and most original acts in Denver.