Back to Shows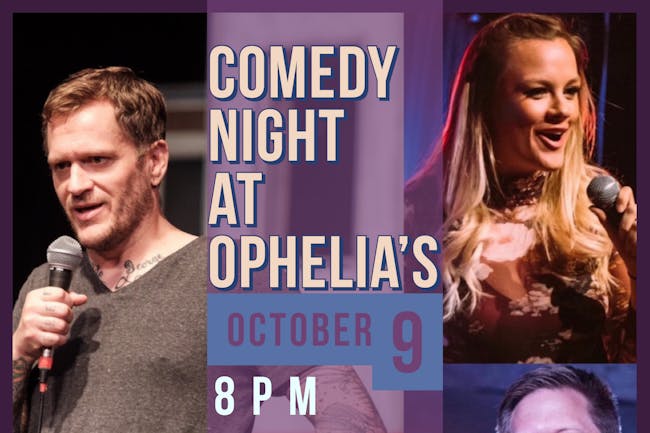 Ben Roy
Elise Kerns, Andie Main, Derrick Stroup
$20.00 - $60.00 Sales Ended

Comedy night, hosted by Elise Kerns

Ben Roy—

Taking comedy audiences by storm since 2004, Ben Roy brings an unparalleled energy and unique voice to stage. Often compared to Lewis Black or Bill Hicks due to his passionate, ranting approach, Roy has a style that is definitively his own.

Roy cut his comedic teeth in Denver at Comedy Works. Since then, he has been selected to perform at the Montreal Just for Laughs Comedy Festival, The New York Comedy Festival, LA Riot Comedy Festival, Boston Comedy Festival, Austin's South by Southwest festival, and many more. Roy has been featured on HBO's Funny as Hell series; as well as on the Comedy Central shows Adam DeVine's House Party, Corporate, @midnight, and This Is Not Happening. Ben has also released three stand-up comedy albums and was listed as one of Variety's Top 10 Comics to Watch in 2015.

Along with fellow Denver Comedians Adam Cayton-Holland and Andrew Orvedahl (who collectively perform as The Grawlix), Ben created, writes and stars in TruTV's original comedy series Those Who Can't, which just aired its third season. In addition to stand-up comedy, Roy is a prolific musician, currently the lead singer of SPELLS.

Andie Main:

Andie Main is a comedian originally from Portland, OR who recently moved to Denver because Portland is kind of annoying. Denver's pretty tight though.

Festival credits include Bridgetown., The Comedy Exposition, repeated appearances at SF Sketchfest and The All Jane Comedy Festival, The 208 Festival, Bumbershoot, Seattle Sketchfest, Portland Pride, Treefort Festival and Cromfest. She has recently performed for sold out crowds at UCBeast, UCB Chelsea and The Stand Nightclub in NYC, and esteemed shows in LA like Put Your Hands Together. When in Portland she is a fixture on the NW circuit and a regular at Helium Comedy Club.

Look for her debut album, Magpie, on Blonde Medicine Records in January, and her upcoming podcast, People Enjoying Terrible Accidents.

Derrick Stroup:

Alabama native and stand up Comedian Derrick Stroup is not your average slow talking Southerner. With the cadence of a pissed off auctioneer, he locks people in with his detailed stories and over the top energy. He started doing Comedy 8 years ago in Jacksonville, Alabama. Derrick's start in Comedy is far from the norm. He put himself up at the local bar he ran and would entertain the patrons for up to an hour with unpolished, from the hip Comedy. His angry rants and silly mishaps eventually gained local attention and his bi-monthly Comedy show was born. He did this for several years until he decided to chase his Comedy dream out West. Derrick moved to Denver, Colorado in 2015 and has never looked back. Since then he has become a regular at several clubs in the State and his unique brand of angry Southern Comedy is starting to gain him some national recognition as well. Recently he was a finalist in the New Faces Competition at the world famous Comedy Works in downtown Denver-which has over 200 entries each year. Derrick tours the South regularly and has opened for Frank Caliendo, Steve-O, Brian Posehn and Josh Blue to name a few. Derrick loves a Waffle House that's clean and cares about it's customers.