Back to Shows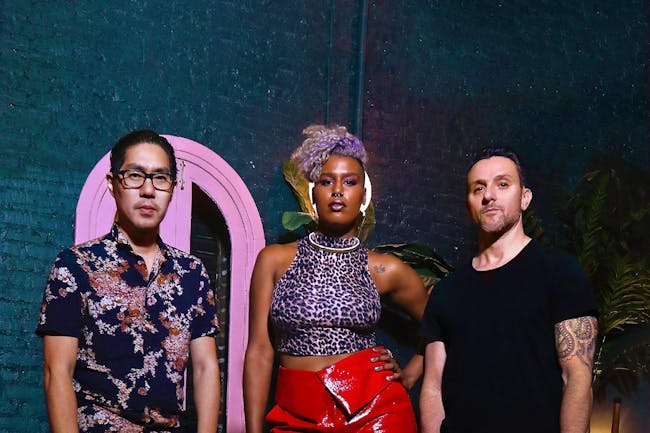 Dance music will live forever, and so will Escort. Champagne toast at Midnight included with ticket!

Dance music will live forever, and so will Escort. The New York City disco outfit are back with their third album, City Life, and if you've spent the last four years missing their unique and classic-sounding approach to dance music, you're in luck. Their most expansive and collaborative album yet, City Life teems with the urban kinetic energy hinted at in the album's title—nine tracks spanning dub reggae, house, Brazilian pop, and the glittery shine of disco equally suitable for your headphones and a night out on the town.

It's the latest in what's been an impressive career for Escort, now helmed by co-producers Eugene Cho and JKriv—dating back to their star-making 2006 single "Starlight," the effervescent grandeur of 2010's "Cocaine Blues," and the indelible self-titled debut that followed in 2011. 2015 brought their sophomore effort Animal Nature, and the last four years have represented a creative gestation leading up to City Life. "We're not exactly the fastest, but we take our time and make sure all the details are in place," JKriv states. "It's been very organic and easy. There isn't one way we work — we just build stuff together."

From the syncopated bass hits of the intro to "Ride"'s piano stabs and palm-muted guitar, Escort draw on a mix of contemporary and classic influences throughout—from the sounds of NYC dance music circa the late 1970s and early '80s to the various permutations of disco and house music that continue to keep bodies moving this very day. There are a lot of current sensibilities that influence us," JKriv explains. "We go for groove music and party music—that's what our music is distilled down to." "There's a subset of dance records that connect with DJs — the kind of things you hear in a club," Cho continues. "We're coming from that direction."

For longtime listeners, the greatest noticeable change on City Life is the abundance of new voices—specifically, vocalist Nicki B, who appears both in lead and background form throughout and is Escort's new lead vocalist — replacing longtime frontwoman Adeline, who's since gone on to pursue a solo career. "Nicki was an obvious choice for us," Cho exclaims regarding the changing of the guard. The Bronx-raised Nicki B has sang since junior high, performing in public with friends and realizing her potential to make music a career at an early age. "What fueled my love for music was growing up in New York City and seeing that you could make money from it, even from just singing on the train," she explains. "We'd sing every day and go to Burger King. We were rich."

Nicki dropped out of college senior year, attended Berklee College of Music for a short period of time, and returned to her home city, singing background vocals in Escort over the last three years: "I fell in love with the people. They became my musical fam, and we created great memories together. It was a natural thing." Eventually, she got the call-up from Cho to take on lead duties.  "Disco's been one of my favorite genres my whole life," explains Nicki, who describes her own vocal style and influences as "If Tina Turner and Grace Jones had a baby." "When Eugene hit me up and let me know there was a new record coming out, I was really excited. We got together and laid down some vocals, and we just rolled it all out."

Nicki's not the only new lead voice appearing on City Life: along with her and Adeline's contributions, there's guest appearances from Gil Scott-Heron collaborator Brian Jackson on "Ride" ("We had him sign our records and tell us stories about working with Gil-Scott Heron," Cho recalls, "We were total nerds"), and dub DJ Lone Ranger on "One Draw." "Being able to have more voices and personalities works with the varied, eclectic nature of where we're coming from," Cho ruminates on the album's collaborative nature. "There's all these different sounds, and it's great to match them with all these different talents — and it was really cool for us to connect with these people making contemporary music that we're so inspired by."

Legendary vocalist Fonda Rae also appears on the album's sparkling title track and lead single; Cho and JKriv met her while performing at a Red Bull Music Academy tribute to underground disco icon Patrick Adams:  "We connected with her—she's really sweet, and we wanted to write a song to feature her on," JKriv explains. "We tried to put something together evoking the feeling of Fonda's records," Cho continues. "We were nervous to send it to her—here's something that's inspired by you!—but she was totally into it. It was great."

And as Escort preps for incorporating City Life's impressive tunes into their storied live show—a leaner, meaner stage setup instead of the orchestra-esque sprawl of shows past—they're connecting more than ever with the beating heart that is dance music's communal pulse. "There's a difference between music you can dance to and dance music," Cho explains while discussing the band's current mission statement that City Life represents. "We try to strike a balance—you can nod your head to it and feel a dance-y groove, but there's a specific direction we're coming from too. This is live dance music, and we try to make stuff we can share to a live experience—which is something that people don't really think about much anymore, but we do."