Back to Shows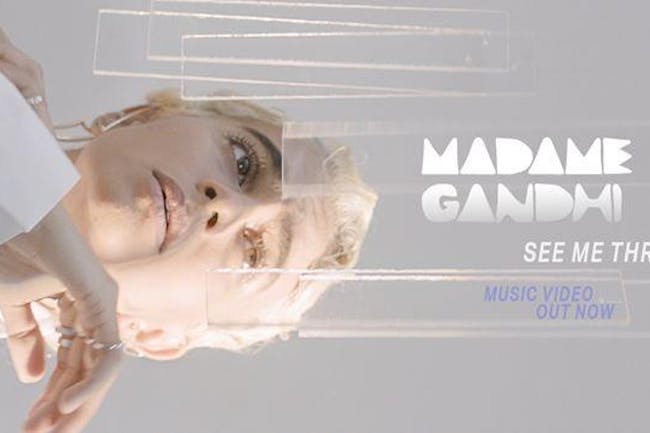 Hip Hop

Kiran, known by her stage name Madame Gandhi, is an artist and activist based in Los Angeles. Having gained recognition as the former drummer for M.I.A. and as the iconic free-bleeding runner combatting menstrual stigma at the 2015 London Marathon, Madame Gandhi now writes her own electronic music that elevates and celebrates the female voice. Kiran holds an MBA from Harvard and a Bachelor's degree in mathematics, political science and women's studies from Georgetown University. Her recent solo EP Voices received critical acclaim when her song "The Future is Female" climbed to #8 on the Spotify Top 50 US Viral Charts in the weeks following the Women's March on January 21st, 2017.

Kiran works with co-producer Alexia Riner, a sound designer and graduate of the prestigious Berklee College of Music, to create the unique and dynamic Madame Gandhi sound. Each song features Kiran's drums, vocals and percussion, backed by the intricate electronic sound scapes developed by her collaborator.

Kiran grew up between New York City and Bombay, India. She attended the Chapin School on the Upper East Side of Manhattan and was passionate about music and mathematics. She started singing and learning the piano at age 4, but drumming would become her main instrument when she picked up the sticks at Camp Robin Hood when she was 11 years old.

One of Kiran's deepest influences growing up was the Spice Girls. For the first time, Kiran felt like she could see herself in her musical role models, and she started reading and learning more about feminism. She grew up in Eleanor Roosevelt's former home in NYC, and as a result learned a lot from her parents about gender equality not only in the United States, but throughout the world.

In 2007, Kiran attended Georgetown University in Washington, D.C., where she studied mathematics and women's studies. When she was a junior, she landed a weekly gig drumming with DJs from Thievery Corporation at their legendary nightclub, Eighteenth Street Lounge. Later she toured with them at Bonnaroo 2010 and Virgin Mobile Fest.

Upon graduating from Georgetown in 2011, Kiran put her math degree to work and went on to serve as Interscope Records' first-ever digital analyst. Here she spent 2 years reporting on patterns in YouTube and Spotify data so that some of the top artists in the world like Kendrick Lamar and Lady Gaga would be able to better understand how to market and sell their music.

In 2013, she linked up with artist M.I.A, who was signed to Interscope, and toured the world as her drummer on the Matangi Album Tour. At the same time, Kiran was accepted to Harvard's prestigious MBA program, and decided to pursue both simultaneously.

Kiran spent her second year at Harvard Business School running a music hackathon program called Music Minds, and consulted for several music industry companies. She also started training for the London Marathon.

In April 2015, she arrived at the start line of the 2015 London Marathon and realized she had her period. Seizing the opportunity to turn an unfortunate event into a symbolic feminist act, Kiran decided to run the entire 26.2 miles bleeding freely to combat menstrual stigma around the world. The marathon was a success and her story went completely viral, sparking a global conversation about how we treat menstruation in various cultures.

After graduating from Harvard in 2015, Kiran spent the past year traveling the world to write and speak about menstrual stigma. During this landmark year, she finished writing her debut EP, "Voices", to be launched in fall 2106.

As she explains with her theory of "Atomic Living", spontaneity can be used productively if we are guided by our own intuition. "Stigma is one of the most effective forms of oppression because it denies us the ability to act according to our own intuition and speak comfortably and confidently about our own experiences. My mission is to elevate and celebrate the female voice."