Back to Shows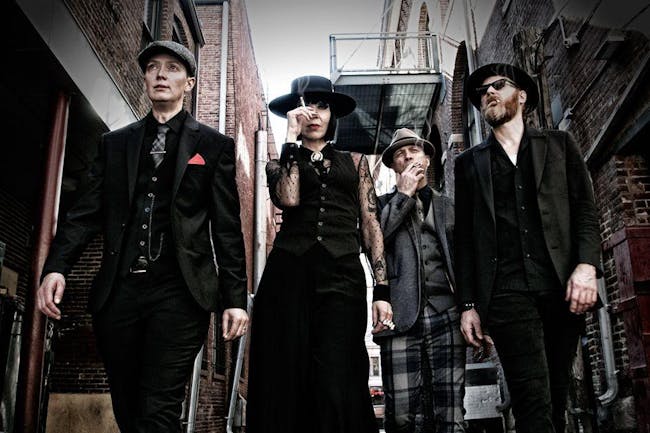 Kerry Pastine & The Crime Scene
Bonnie & the Clydes
$13.00 - $27.00 Sales Ended

Rock & Roll/Blues Rock

Since the release of their album Let's Do This Thing in 2015, Kerry Pastine and the Crime Scene have taken the national roots music scene by storm, spending the end of 2015 and most of 2016 touring North America. From sweaty, sold-out small clubs to sharing the main stage of the Bohemian Nights New West Fest with the Steve Miller Band, the Crime Scene shows no signs of slowing down. "The vintage tones swing and punch -- like Joan Jett backed by the Stray Cats," noted Pandora when naming Let's Do This Thing their Pick of the Week of September 1, 2015. Less than 3 months after the release of Let's Do This Thing, the band delivered an eight song holiday EP, It's a Crime Scene Christmas. Stubby's House of Christmas declared, "Every song is an original and every one is a winner. Kerry and company leave the bigger names in the dust. Kerry Pastine is Wanda Jackson, Patsy Cline, Grace Slick and Ann Wilson all rolled into one."

Kerry Pastine (vocals), Pauly Six (guitar), Lance Romance (upright bass) and Mad Dog (stand-up drums) are believers in mixing ideas from the past into something new, fun and exciting. There are elements of rockabilly, jump blues, classic soul and garage rock all spun together in an intoxicating original sound that fans are calling a "roots rock & roll party." Party is definitely the name of the game for the Crime Scene. Their songs are born from that magical feeling when a band gets together and the union feels like fate. All of the pieces simply fall into place and the result is a joyful celebration of life, love and hazy nights filled with live music, friends and just a hint of danger.

One of those hazy nights is captured perfectly in the video for Let's Do This Thing. Since its release in April 2015, the video has caught fire, landing the Crime Scene on television, radio and stages across the U.S. The Fox 31 Everday Show featured the video for their Viral Video spot where hosts Chris Parente and Kathie J commented, "I love this! I could not believe their sound. I thought, 'They have to be [from] L.A.' They are going places!" While on tour in Nashville, the band was invited to the 515 Studio for a televised interview on Nashville Entertainment Weekly where they talked about their "incredible" video and how their unique sound sets them apart from other artists and bands in the "Americana" genre. As Longmont Magazine points out, "It's rockabilly with a Patti Smith attitude. They're good. Really good. The music market really is ripe for some rock and roll, so they well may be on their way to bigger venues and locations."

Those bigger venues and locations are exactly where Kerry Pastine and the Crime Scene plan on heading for the rest of 2016 and 2017. The band played multiple shows during the 2016 Viva Las Vegas festival in April, including two nights at the House of Blues Las Vegas. The band's Summer 2016 schedule includes major festival appearances and shows with Coco Montoya, Cracker, The Fabulous Thunderbirds and the legendary Dick Dale. The Crime Scene has its sights set on the UK and Europe in 2017, as well as a new batch of songs that are ready to record. The band thrives on hard work, writing songs and bringing those songs to as many people as possible. It's time for the rest of the world to DO this thing with Kerry Pastine and the Crime Scene!

The sound is at once familiar, but modern. Vintage, but cutting edge. This ride isn't an old Cadillac. Kerry Pastine and the Crime Scene is a souped-up hot rod with bulletproof glass, a modern chassis and a shiny new engine. The perfect vehicle for a life of crime and musical performances born of sin.