Back to Shows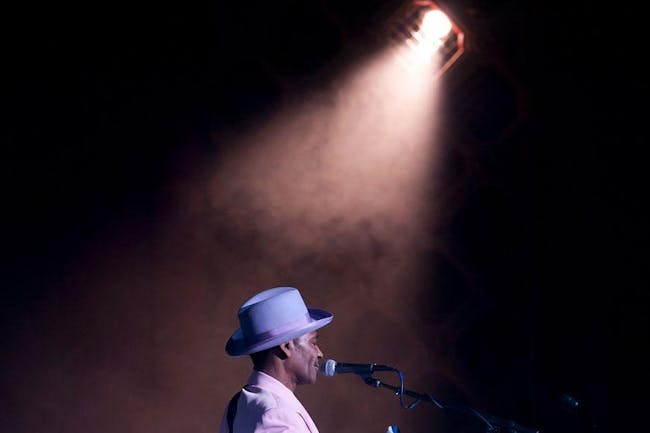 Your style of music-Blues/Soul/Jazz/RnB

RICKY EARL, Louisiana Blues Man, the Piper of the Blues and Blues Man of this Century. Ricky Earl brings a new vibe of blues music to the scene. Ricky's Chicago Style Blues Music is a mix of Johnny Taylor, Chuck Berry, and Sam Cook, BB king all in one. He's a star moving to superstardom as a great blues Entertainer. Ricky was born July 7th, in a small town called Poplar Bluff, Missouri he is one of ten children born to a Baptist Minister of Baton Rouge, Louisiana. His family was well known as the gospel group, The Earl Singers. Ricky started playing the piano at age five. He then added the bass and then the guitar. Ricky's guitar playing has brought him fame and notoriety throughout the country. At fourteen, Ricky was introduced to the blues world and joined a group called the Dayton SideWinders. Ricky continued his destiny by working with some of the greatest blues artist like Little Milton,who groomed him as his band-leader for twelve years. Ricky shows his masterful guitar skills on LittleMilton's album, live at Westville prison. Ricky is a product of Little Milton and Albert king and he has been true to keeping the Blues Alive. Ricky was Albert King's side man for seven years and he also played with Artie white and Johnny Taylor. Ricky has traveled throughout Europe, Japan, and the United States. He has made appearances in blues festivals, and venues all over the world. He also had a spotlight in player magazine in 1991. Ricky Earl, a true blues trend-setter.

CHERISE, started singing gospel in a small church in Orange County ,California. Her vocal abilities was first noticed when she lead songs in the choir. Cheri has her own unique style ranging from Aretha Franklin, Etta James to Mary j Blige. Her voice is strong and powerful. She is multi-talented able to dance and sing. Cheri was born in Rochester, Pennsylvania a small town outside of Pittsburgh. Her parents moved to southern Californian when she was one where she grow up and studied dance, she is a very gifted dancer. She choreographed a dance troop while in high school in Cerritos, California. Cherise was introduced to the blues when she moved to Denver, Colorado. She fell in love with the blues and started singing around town. She studied with the well know blues artist, Sammy Mayfield. Cheri also is inspired to write songs with beautiful lyrics. She's done studio work for herself and others such as; the great master soul artist Solomon Burke. Cherise is currently collaborating with Ricky Earl who is a master vocalist. She is an exciting vocalist and entertainer specializing in R&B, Jazz,and Blues.

Together they are the RickyEarlBand & Cherise Experiance.